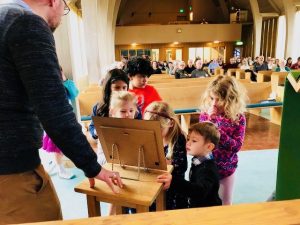 On your feet now applaud God! Bring a gift of laughter,
sing yourselves into God's presence.
Psalm 100:1
We just can't contain our excitement! Bring your family, bring your friends. Let the joy fill you, move you, and inspire you.
We have Nursery Care available for children birth through 3 years of age, located downstairs.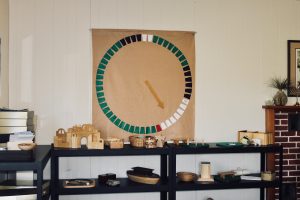 For children ages 4 to 5th Grade, we offer a Godly Play curriculum. Godly Play is designed for Pre-K – 5th grades and meets in the Godly Play classroom downstairs. Godly Play combines Montessori methods with storytelling to create a way for children to wonder about themselves and God. Students explore Bible stories, art creations, and wherever their ever-questing minds may lead them.
Godly Play runs through the school year, starting after Labor Day and finishing in early June. During the summer, children are encouraged to stay in the service with their family and will be provided Illustrated Children's Ministry resources, which teach Scripture and Bible stories through interactive bulletins, puzzles, and graphics to draw and color. Nursery care is also still available during the Summer.
For more information: Contact Tracy Caruso, Director of Children and Family Ministries through the church office: 360-733-1325 or via email: tracy@saintjamespres.org.