St. James Presbyterian member and public health pediatrician Jennie McLaurin released "Designed to Heal: What the Body Shows Us about Healing Wounds, Repairing Relationships, and Restoring Community" this week! Pastor Seth read this fabulous book and wrote the following review. Pick up a copy at a local bookstore!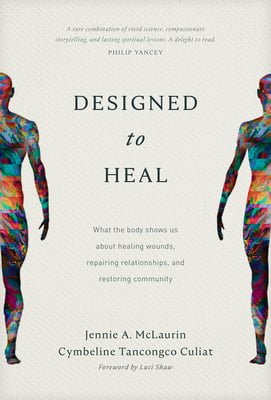 I remember some particularly gnarly cuts and scrapes from my youth. Playing hard at the driveway basketball hoop with my dad or sister, rollerblading up and down our hilly street, or the skinned sides and elbows from goalkeeper practice on hard astroturf. My body can tell stories of wounds, healing, and what physical echoes remain.
In Jennie McLaurin's insightful, generous, and story-filled "Designed to Heal" (with Cymbeline "Bem" Tancongco Culiat), we learn that our bodies are made to restore themselves. A deep cut or scrape is the beginning of a magnificent process set to work by the biological healing agents intricately knit into our bodies. The healing process is not always easy, often painful, and in many cases, leaves us marked with a scar that tells a story. So it is with our life together in community. We experience disruption, then a turning back to one another, and finally repair to deepen our connections and draw us closer together as God's beloved people.
Jennie employs a deep knowledge of the body and numerous stories of caring for children, migrant workers, and the marginalized worldwide. All of this to illuminate how God designs us to heal, not only from wounds but also from our communities' ruptures. Her stories put practical examples to the body's healing process that would otherwise be beyond a layperson like me. As I began reading this book, I was honestly concerned I might not know all I need to about medicine or anatomy to comprehend the theme of healing. Jennie does a fantastic job of making the nuances of medical care approachable and applicable to our daily lives and our shared life together.
As we work through the phases of wound healing, we begin to see that similar processes can occur in our communities. Specifically, there are many examples of how the church and organizations can heal and restore after the immense disruption of the COVID-19 pandemic. If there is ever a time that we collectively need to consider the work of healing, it is now. And while the COVID-19 pandemic has been so difficult for so many, it presents us with the beautiful reality that God has wired us for this kind of restoration. God is about the redemption and repair of all creation. We experience this day after day as we embrace God's love.
One of my favorite portions of these chapters is the connection between medical expertise and spiritual practices that can aid inter- and intrapersonal healing. From the Ignatian tradition of the Daily Examen to the acknowledgment of the power of indigenous healing rituals, we see that recovery involves more than a bandage and bed rest. Healing comes from integrating body, mind, and soul — the whole person, being made whole by their Creator's hand.
As a pastor, I am immensely grateful for Jennie and Bem's gift of refreshed language for healing and restoration. We need it. Having experts of this caliber connect their scientific background with their deep abiding faith helps us see that God uses our whole person to love our neighbors and enemies. May you find this resource as a healing balm for the wounded souls of our communities, stitched and restored back to wholeness by God's love.